The Embassy of the Slovak Republic
in cooperation with the Embassies of the Visegrad Group and Winnipeg Film Group
is pleased to invite you to the screening of Slovak entry at the
Central European Film Festival
the winner of the 2002 International Emmy Award for Documentary
Nicholas Winton: The Power of Good
a film by Matej Mináč
Monday, May 9, 2005 at 8:45 p.m.
A gripping documentary about the amazing courage, determination and modesty of a young English stock exchange clerk who saved the lives of 669 Jewish children who otherwise almost certainly would have been murdered by Nazis. Between March and August 1939, Nicholas Winton organized nine trains to take children from Czechoslovakia to new Jewish homes in Britain and kept quiet about it until 1988 when his unaware wife discovered in the attic a scrapbook documenting his unique mission.
2001, 64 min.
Cinematheque Winnipeg, 100 Arthur Street, Artspace Building
Tickets at $6 (adults) and $ 5 (seniors and students) are available at the box office: 925-3457
www.ottawa.mfa.sk
Director Matej Mináč about his feelings after beeing granted Emmy Award:
"When we went to New York, Joe Schlesinger the narrator of the film was there and my executive producer, Martina Štolbová and my fellow producer Patrik Pašš. The day before we saw all the movies in our category and they were very, very good. They were from the big companies like NHK in Japan, ZDF, Arte and CBC, so we were thinking that our chance of winning the EMMY is very little and more or less I was sure that we won't win it. So the moment when they said at the ceremony at this gala evening: "And the winner is Nicholas Winton - the Power of Good", I thought that I didn't hear it properly, so we didn't react, we didn't do anything, you know. And so they had a little bit to repeat: "And the winner is ", and only then did we believe it. And we said that really for us it's an amazing thing because this prize more or less belongs to a man - Nicholas Winton - to whom we wanted to pay tribute, because he deserved it so much that he selflessly rescued these almost 700 children. And he did something absolutely astonishing, and for us it was such a moment of self-fulfillment that we could thank him this way, through our profession."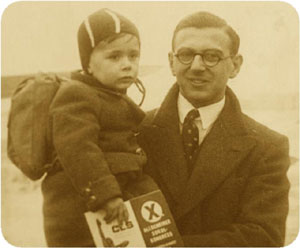 Nicholas Winton holding one of "his" children at the railroad station, 1939
Lord Alfred Dubs, Exminister and MP, Great Britain: I'm one of Winton's children. And it's a privilege in fact to have met him. Without his goodness I wouldn't be alive. So it's an astonishing thing.
Joe Schlesinger, CBC reporter, CANADA:
I had been a blessed, most fortunate man. Both in my family life, in my career, I have the work I love, I have the family I love, I can't think of asking for anything more I just get. And I owe it to one man - Nicky Winton.
Vera Gissing, Writer, Great Britain: You've got to think, O. K., we lost our parents, but they made a tremendous sacrifice by sending us away. We cannot let that sacrifice be in vain. We've got to contribute something to the world and live in a way they would be proud of.
www.ottawa.mfa.sk