Příští akce / Next events
Pozvánka na 6. virtuální debatu se členy MZV ČR


Vážení a vzácní přátelé,
za iniciativu Chceme volit distančně si vás dovolujeme pozvat na již 6. virtuální debatu zahraničních Čechů, která se uskuteční 4. 2. 2022 a ponese název Srdcem doma.
Toto datum hraje pro krajany důležitou roli. Na základě výzvy ministerstva zahraničí si Češi ve světě zvolili 4. únor za svůj významný den: den odchodu J. A. Komenského do exilu. J. A. Komenský, byť daleko od domova, srdcem zůstal vždy doma. Naše iniciativa vyhlásila minulý rok (4. února 2021) kampaň na podporu uzákonění korespondenčního hlasování, která trvá dodnes.
Pozvánku na 6. virtuální debatu přijali následující hosté:
- Martin Smolek, náměstek ministra zahraničí pro řízení sekce právní a konzulární, MZV ČR.
- Pavel Pitel, ředitel konzulárního odboru MZV ČR.
- Jiří Krátký, zvláštní zmocněnec pro krajanské záležitosti, MZV ČR.
Datum debaty: 4. 2. 2022
Začátek debaty: 17:00 hodin středoevropského času (CET)
Moderátorka debaty: Eva Hrnčířová, česká novinářka, reportérka a moderátorka.
Virtuální platforma: video-konferenční platforma Zoom.
K účasti na setkání je potřeba vyplnit tento přihlašovací formulář:
https://forms.gle/S5xSS44Yeanj5HUm8
Odkaz na Zoom zašleme včas všem přihlášeným.
Debata se zaměří na otázky z oblasti sociálně-právní služby českým občanům v zahraničí a na otázky ohledně prosazení korespondenční volby, včetně uvedení dobrých příkladů z praxe od našich zahraničních sousedů.
Vaše otázky pište přímo do přihlašovacího formuláře, viz výše.
Děkujeme také za přeposlání odkazu s přihláškou Vašim přátelům, které by tato debata mohla oslovit.
Těšíme se na setkání s Vámi!
Marta McCabe a Dagmar Straková,
organizátorky 6. virtuální debaty
https://www.chceme-volit-distancne.cz
==================

Vážení přátelé,
vzhledem k zhoršující se situaci s COVIDEM -19, výbor CCBA se rozhodl pro ochranu všech našich návštěvníků k dočasnému zavření klubu počínaje čtvrtkem 6. 1. 2022 až na další oznámení. Děkujeme za porozumění a doufáme že se všichni brzy ve zdraví sejdeme. Informace o změnách budou oznámeny na webových stránkách.
Na shledanou/ dovidenia

Dear Friends,
Due to the deteriorating situation with COVID-19, the CCBA Board has made the decision to protect our members and visitors by closing the Club starting immediately, and remaining closed until further notice. We thank you for your understanding and we hope that we will be able to safely resume meeting in the near future. Information concerning updates will be posted on the Club's website.
On behalf of the CCBA Board of Directors
Marcela Stedronsky
********************************************************************

Př
í
ští výborová sch
ůze
3.2.2022, 18:30
-----
Next Board meeting
February 3, 2022, 6:30PM

Na čem si smlstnete v baru?

Pošlete email na clubbar@czechslovakbenevolentassoc.ca
nebo
volejte prosím na číslo 204-589-7483.
******

What specialty will be served?
Please email clubbar@czechslovakbenevolentassoc.ca
or
call 204-589-7483.

Check out and "Like" our Facebook page -
Czech & Slovak Community of Winnipeg
for regular updates and interesting posts.
If you already like us …
thank you and feel free to invite your friends to like our page.
............................................
This page updated January 22, 2022

COVID-19
==============================================================
CCBA program společenských akcí

zima-jaro 2022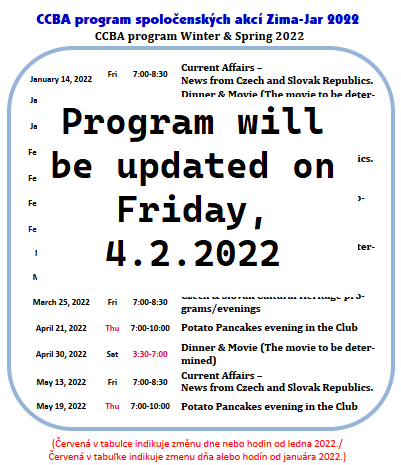 Dvůr, restaurace a společenský sál CCBA
Provinční nařízení dovoluje jenom plně očkovaným osobám s očkovacím průkazem vstup do restaurací, barů, atd. Vedle očkovacích průkazů jsou také vyžadovány masky jak uvnitř tak i venku (na dvoře) kde mohou být sundány jenom při jídle a pití u stolu.

Stejné nařízení se též vztahuje na naše pravidelné návštěvy v klubu ve čtvrtek a pátek. Při vstupu do budovy bude vyžadován důkaz o plném očkování (karta nebo barcode na telefonu) a maska!

Žádáme Vás o porozumění a dodržování pravidel! Je to v zájmu ochrany všech našich krajanů!
Doufáme, že i tak se nám Vepřové hody vydaří a Ti kteří jsou plně očkováni nás přijdou podpořit, jak na hody, tak i ve čtvrtek a v pátek do klubu.
Těšíme se na shledanou/ dovidenia!
Mimo výše uvedeného, CCBA bude dodržovat všechna další nařízení a doporučení Manitobské vlády.
CCBA si vyhrazuje právo akce omezit či zrušit na základě aktuální pandemické situace.
Implemented COVID-19 regulations will have an impact on our events and will supersede the information announced in the Pramen/Riecka. As a result of regulations, only those individuals who have been fully vaccinated and are able to produce proof of their vaccination, will be able to attend our events. In addition to the vaccination requirements, masks will be required to be worn both inside and outside the Club at all times, except when seated at a table consuming food or drink.
Until further notice, the same regulations will apply when attending the Club bar during regular business hours, Thursdays and Fridays as well as for any other planned Club events. At the point of entry into the Club all individuals will be required to wear a mask and produce proof of their vaccination by showing their Manitoba Immunization Card or QR proof of vaccination code.
We thank you in advance for your anticipated patience, understanding and full co-operation in upholding all prescribed requirements during this difficult time. These safety measures are in all of our best interests. We sincerely hope that notwithstanding these minor inconveniences the Pig Roast will be a great success, and those who are fully vaccinated will come out to support the Club whether at the Pig Roast, Thursdays and Fridays in the Club bar, and other planned events. We are looking forward to seeing everyone!
On behalf of the CCBA
Marcela Stedronsky
President
Besides above specified, at the time of event, CCBA will adhere to all other Manitoba government directives and recommendations.
Based on pandemic situation, CCBA may limit or cancel any event.
================
The generous support of our members through annual dues
and donations is vitally important to the financial health of the Club
and we are taking steps to make it easier for our members
to support the Club and help keep it financially viable.
Should you wish to pay your membership dues and/or make a donation,
you may do so by sending us a cheque payable to CCBA.
The envelope should be addressed to
154 McKenzie St., Winnipeg, Manitoba, R2W 5A2
(Please do not mail cash).
If you prefer to make an electronic payment,
you may do so online using Interac e-transfer
(instructions for e-payment here).
On behalf of the CCBA
Marcela Štedronský
President
**********************************************************


Tovar v Tuzexu
(merchandise)

Kofola, Magnesia, Vinea white, Vinea Red,
Hašlerky, Horčice Krémžská malá, Tatarská omáčka,

Povidla, Bramborové těsto

Ponúkame: Tatranky, Sójové Suky, & Čokolády a Napolitánky, Ocot,

Znojemské Uhorky, Hořčice, Papriku, Kořeniny, Minerálné vody.


**********************************************************

Výborová schůze Jednoty je každý měsíc
první čtvrtek v 18:30 hod.
Board of Directors Meeting is every month
first Thursday at 6:30 PM
******************************************

if you are able to help with the dinner preparation or otherwise help in the kitchen
- please call
204-589-7483 and leave message. You can also contact any board member.


Zmena programu vyhrazená
We reserve the rights to change the program


TEŠÍME SE NA VAŠÍ ÚCAST !
WE LOOK FORWARD SEEING YOU AT THE CLUB!
XXXXXXXXXX

Czech & Slovak Community of Winnipeg